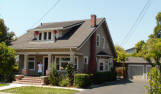 Sun & Moon Wellness Weekdays 9am-6pm Saturday 11am-3pm (408) 260-2266
Health, Lifestyle and Chinese Medicine

Dr. Chen provides consultation services about alternative herbal medicine and your life-long health by integrating a combination of key Lifestyle Changes and natural Chinese herbal formulas for optimum benefits.

Chinese Medicine is composed of a wide variety of commonly-used herbs, which are verified in clinical reports as well as experimental research to be safe and effective for treatment of the specified diseases.

Natural healing is considered the best first remedy and acupuncture is recognized as being effective in the treatment of:
Addiction (alcohol, drug, smoking), Anxiety, Arthritis, Asthma, Bronchitis, Carpal Tunnel Syndrome, Chronic fatigue, Colitis, Common cold, Constipation, Dental pain, Depression, Diarrhea, Digestive trouble, Dizziness, Emotional problems, Eye problems, Fatigue, Fertility, Gingivitis, Headache, Hiccough, Incontinence, Indigestion, Low back pain, Menopause, Menstrual irregularities, Migraine, Morning sickness, Nausea, Osteoarthritis, Pain, PMS, Pneumonia, Reproductive problems, Rhinitis, Sciatica, Shoulder pain, Sinusitis, Sleep Disturbances, Smoking Cessation, Sore throat, Stress, Tennis Elbow, Tonsillitis, Tooth pain, Vomiting, Wrist pain, and many more conditions and ailments.