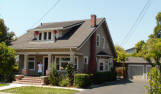 Sun & Moon Wellness Weekdays 9am-6pm Saturday 11am-3pm (408) 260-2266
---

We look forward to assisting you on your journey to health and happiness!

Guang Yue Chen, doctor and head of neurology in Guizhou, China, provides natural solutions to your health problems at the Sun and Moon Wellness Center. She specializes in health rejuvenation, natural, non-evasive healing methods and neuro-acupuncture and neuro-emotion techniques. She has successfully treated many nervous system and emotional disorders as well as providing natural alternatives using Chinese herbal medicine and non-drug remedies for pain management, neurological conditions, treatment of sports injuries, and safe, natural facial rejuvenation.

Guang Yue Chen, has over 18 years of experience in neuro-acupuncture and has brought her Eastern medical expertise from China to the Silicon Valley. Her knowledge in medicine-free healing and integrating Eastern and Western medical techniques provides a unique and modern solution to her patient's health needs. Contact Sun & Moon Acupuncture for your free initial half-hour consultation and learn more about more natural remedies and solutions to your health needs.

•Bachelor of Medicine and Master of Neurology degrees from Guiyang Medical University in China
•Professor of Neurology at the highest rated hospital in the Guizhou Province of China for 18 years
•Trained in Chinese Traditional Medicine and Acupuncture at the Guiyang Traditional Medicine University
•Is certified in Clinical Deep Tissue Massage, Shiatsu, Swedish Massage, Acupressure, and Neuromuscular Therapy in both the United States and China

Workshops
•Sun & Moon offers educational Tai Chi classes, Health, Lifestyle, and Chinese medicine coaching and a *new* EFT workshop to build on and expand your knowledge of improved health and key life style changes for life-long well-being. Tai Chi is held every Tuesday morning at 9:00am to 10:00am. EFT workshop is every Tuesday following Tai Chi, from 10:30am to 12:00pm.


What is Neuro-Acupuncture?
Ordinary acupuncture focuses on pressure points. In contrast, Neuro-Acupuncture is a technique aimed to treat nervous system disorders. Accurate placement of acupuncture needles serve to stimulate the nervous system and energize the neuro-chemical system. The activation of the neuro-chemical system results in a natural healing.

For many common disorders such as headache, neck pain, and digestion problems, the result is a greater and more sustained relief than is possible with ordinary acupuncture.

Some of the conditions where Neuro-Acupuncture is especially valuable are:

•Headache
•Neck Pain
•Digestion problems
•Stress
•Post- stroke rehabilitation
•Neuritis
•Trigeminal neuralgia
•Bell's paralysis
•Multiple Sclerosis
•Guillain-Barre syndrome
•Most neuropathies


---
Sun & Moon Wellness Center
Contact Information
Telephone

(408) 260-2266

FAX

(866) 203-2322

Postal address

3905 Williams Rd, San Jose, CA

Email

General Information: info@sunandmoonwellness.com
Webmaster: info@sunandmoonwellness.com

Dr. Sun: gyc@sunandmoonwellness.com