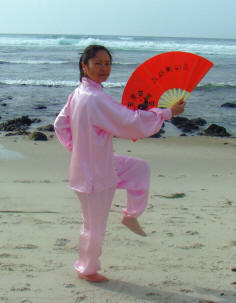 Sun & Moon offers special sessions and tailored
Tai Chi learning and practice classes.
Contact Us for more information.
Tai Chi

Sun & Moon sponsors and conducts opportunities to learn and practice Tai Chi as a part of a total wellness health offering. These one hour sessions begin with a gentle warm-up and breathing exercises to quiet the mind. In this manner the body's muscles loosen and the meditation and Qi movement allow Tai Chi to take effect. The class then proceeds to do 'follow-me' exercises, demonstrating individual poses and movements in organized sequences. Classes end with cooling down exercises and Tao discussions to promote relaxation and an improved, positive and peaceful state of mind.
Benefits of Tai Chi are:
Total Health Management
Stress Reduction
Improved Circulation
Improved Coordination
Improved Strength
Improved Balance
Greater Flexibility
much more....
EFT
We are excited to announce that our "Wake up your natural inner pharmacy!" group workshop is going to begin Tuesday, February 16, 2010 from 10:00 am to 11:30am and will be held at this time each following Tuesday.
Each class will lead you to expand your understanding of health and explore in-depth the real cause of your symptoms or illness while learning the simple, and effective, self-therapy technique of "Meridian Tapping" for a life time of health and happiness.
You can achieve miraculous healing from this enhanced technique with the guidance of Dr. Sun, a MD neurologist in China for over two decades and acupuncturist & herbalist in the Bay Area. We look forward to seeing you there!

Rejuvenate your life for only $40 a session!

*Spread more happiness to others and receive a $30 discount off of your next treatment!*

We look forward to assisting you on your journey to health and happiness!