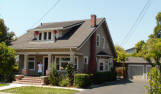 Sun & Moon Wellness Weekdays 9am-6pm Saturday 11am-3pm (408) 260-2266
Health Protection Instrument
Function
The Health Protection Instrument uses western biologic electromagnetic wave technology combined with Chinese medicine. The high-tech computer CMOS chip numeral technology control function is programmed to receive the slender bioelectricity signals sent out by each part of the body. The instrument responds to these signals with an electromagnetic wave impulse to stimulate the zones of foot, hand, body's points and locus zones than pass the energy to the whole body, activating your body's each function. So as to reach the efficacies for adjust body's physiological function, promote metabolism, and improve blood circulation, expedite meridian, and improve immunity. Especially with the slimming belt, will excite the nerve muscle tissue of waist; Make your waist more beauty. It especially suit for white-collar office worker with strain & tired, the middle-age & elder, and the sub-health people.
Features
25 kinds massage models for sole and body respectively.
99 kinds electromagnetic wave massage intensity.
8 piece electrode pasters, lets you enjoy the massage and slim adequately.
Plasma will sterilize, eliminate dust and peculiar smell.
Infrared function will effectively expedite vessel pulsation, and promote blood circulation.
Focus on physical therapy, magnetism therapy, massage, body slimming and health protection function.
Key Benefits
Benefit 1
Benefit 2
Benefit 3
Pricing
| Description | SKU # | Price |
| --- | --- | --- |
| Health Protection Instrument | 1 | $95 |